stock trading software designed to help you make money no matter what the market is doing. By automating Technical Analysis, OmniTrader gives you the power to make decisions fast! Since 1994, OmniTrader has been generating confirmed buy and sell Signals, helping traders and investors trade the moves. These Signals are seamlessly combined with unique Confirmation tools making it easy to review and compare candidates. OmniTrader is a great prospecting tool!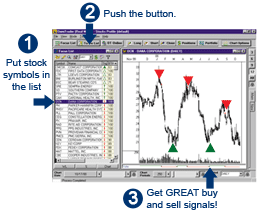 The best thing about OmniTrader is that it is completely automated. OmniTrader allows you to focus on your trading, not hours of analysis.


Because OmniTrader is 100% automatic, it's easy to review a list of prime trading candidates .




OmniTrader is designed to take the emotion out of trading. You will see when to get in and out of a trade in order to manage risk and increase profits.


OmniTrader has features that help you improve your trading skills. Learn the software as you gain the confidence you need to "pull the trigger" in real trading!
For more information, click here to send an email or phone 011-728-5510 during office hours.